Friday, Zeptember 18, 2020
Cheers!  It's the Weekend!
I overheard the ladies in the lady talking about champagne this morning and it reminded me of 'The Champagne of Beers'!  Here's to you Mr. Honey-Do list guy of the weekend, trying to get it all done so you can at least watch ONE game before Monday starts breathing down your neck again!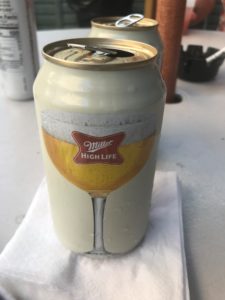 My buddy Bryan Himes and I will be out playing music and hopefully making people laugh and sing.  See us at Cocktails Too! on Friday Night, and then we'll play out on the patio at The Chevy Chase Inn on Saturday Night.  Come have a beer, or… champagne!
---
Thursday, Zeptember 17, 2020
Happy 50th Birthday George Gatewood!  Everyone knows George it seems.  He's the man behind Longwood Antique Woods on Delaware Street, our beloved softball 3rd baseman for decades and the guy that introduced me to Tyler Childers in 2012.  Last night it was a scene on the back patio at Lexington's oldest pub The Chevy Chase Inn… Sadly, most of the pictures taken were not for prime time!  Cheers George!  #Skynyrd #Beyomp #Huckleberry #America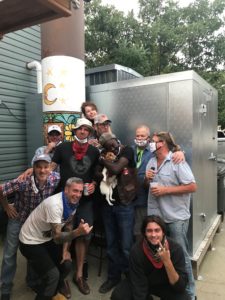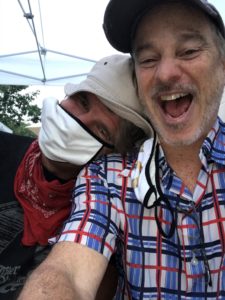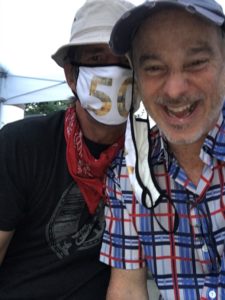 ---
Wednesday, Zeptember 16, 2020
So I went to the Sedona Taphouse at the Palomar Center to have a delicious meal and listen to Ben Lacy play guitar, and was so happy to see our American Flag at the entrance.  (Notice how I'm standing, and not kneeling.)  I'm one of those guys that tears up a little bit when I hear someone singing the National Anthem, and I always appreciate seeing it's glorious colors fly wherever I go.  Well done, Sedona Taphouse!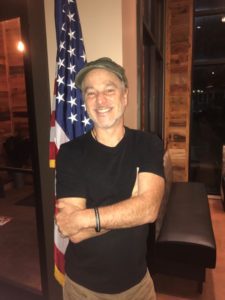 Friday Zeptember 11, 2020
Rupp Arena Reconstruction Update:  Last week I told you guys how I can see the razing of Rupp Arena from our office window.  They've even removed the aerial Pedway crossing over Main Street from our building to Rupp and I took 'before and after' photos.  (see below) 
BTW, Thanks to everyone for calling in with your 9/11 memories this morning.  Some of the phone calls gave me chills as I listened to Max Corona putting listeners on the air.  It's a day we'll never forget, nor should we.  It's also the last time I remember a wholly unified truly UNITED STATES of AMERICA.  9/11 #NeverForget

Have a great weekend, y'all!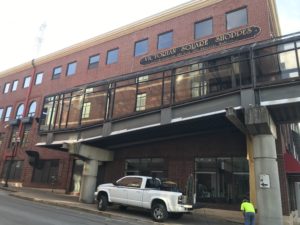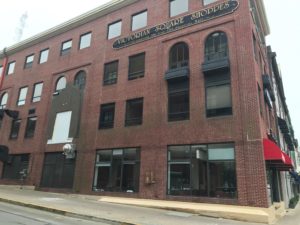 BEFORE PEDWAY REMOVAL       AFTER PEDWAY REMOVAL
---
Zeptember 10, 2020
"Oh, I'm sorry.  Did I break your concentration?"
"Say 'what' again. Say 'what' again, I dare you, I double dare you"
Just discovered The Burl is doing Thursday Night Movies.  In the parking lot.  Free.  Food & Drink available at The Arcade next door.  Social Distancing & Masks required.  
So, bring out the gimp, let's go to the movies!
-Dennis
——————————————————————————————–
Zeptember 9, 2020
LOOK AT ME!  I've hit the big time!  I'm in 'Tops In Lex' Magazine!!! 
I feel like Godzilla in this picture, like maybe I should be breathing fire and destroying a city or two.  I've never liked photos of myself, so I just tend to laugh at them and then quickly look away. 

The font looks a little like 'Raiders of the Lost Ark' or 'Back to the Future', so I can't complain too much.  Thanks Tops in Lex!   Now… everyone, 'Look Away'!!!
—————————————————————————————————————
The EMAIL button works!  Thanks Kathy Livingood for being the first listener to try it out.
FRIDAY SEPTEMBER 4, 2020
Speaking of our Lady Rockers, Here's Laura McHugh, the LOCAL voice you'll hear announcing the 'numbers' during our Labor Day 92 Countdown.  So, she'll basically be introducing the #1 Song!  Thanks Laura! 
Everyone have a fun, blessed Derby & Labor Day Weekend!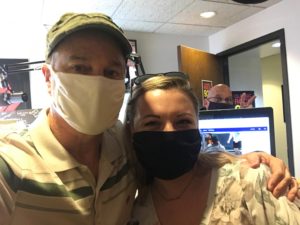 ---
Thursday September 3, 2020
'Moving to the Country, gonna eat me a lot of peaches…'  -Presidents of the United States. (that was the band's name.)
YES, The wife has a serious peaches problem.  However, this particular photo was not 'her' work.  She placed a dozen or so on the hot tub cover overnight so they'd ripen quicker and guess who found them.  We initially blamed the squirrels, but then saw raccoon pawprints in the mashed remains.  Hungry little suckers aren't they?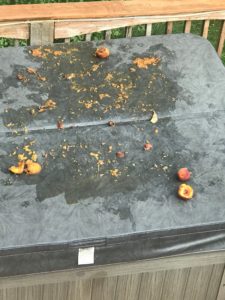 Wednesday September 2, 2020
No Softball, No Problem.  No Parks & Recreation league didn't stop Larry Hall (Hall Media Inc.) and BeerMan from meeting me at Kirklevington Park to toss some softball.  Take special note of BeerMan's ManBoobs.  Oh, and that's Mrs. DeadAir trying to sneak into the pic.


———————————————————————————————————-
Friday August 28, 2020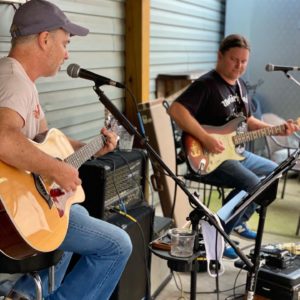 Sometimes I'll mention that local musician Bryan Himes and I play around time. Here's a shot from last weekend out on the patio at Chevy Chase Inn. We'll be back there Saturday, and then Sunday evening we'll be playing at Cocktails Too on Tiverton Drive, so come out and join us for a few songs!
EMAIL Dennis… NOW! Friday, Zeptember 18, 2020 Cheers!  It's the Weekend! I overheard the ladies in the lady talking about champagne this morning and it reminded me of 'The Champagne of Beers'!  Here's to you Mr. Honey-Do