Monday, November 23
Here We Go!   Classic Rock "A to Z"!
Hearing some really great classics like 'Abacab', 'Blue Morning Blue Day' and 'Boom Boom, Out Go the Lights' really got me anxious about getting on the air this afternoon! 
I just hope you guys dig this Alphabetical Adventure as much as we do!  Max Corona was playing air guitar in the hallway like a drug fiend!
Thanks to everyone who stopped by the 'Toys for Tots' Toy Drive on Saturday.  ('Richmond Rocks'!)  We were so blessed to be part of the day, thanks to 92.1 Rocker 'DL' (The Madden Madman'!) for inviting us out.  Shout out to Paul Anglin and Robert Ishmael too, their families and the sight of their little girls loading toys into the truck was the most endearing part of the day.  To see children understanding the importance of sharing with other kids who may not have as many toys is simply priceless.  Here's my old buddy Hope Rollins and her friend Andrew, who stopped by to help us fill the 'Toys for Tots' Truck!  
God bless, Here's wishing everyone a gracious and 'Happy Thanksgiving'!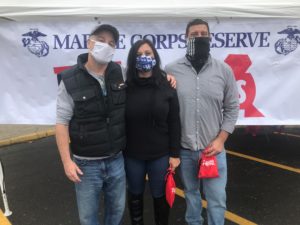 ---
Thursday, November 19
It's a good time to email me to make sure I don't forget one of your fave songs in our 'Classic Rock A to Z' which starts on Monday!
Just because 'Andy' is shutting down Kentucky again doesn't mean that he can pull the plug on my spirit!  Look for me and Bryan Himes playing our guitars in the streets and (newly built) sidewalks, gutters and parks around town, we'll also be doing things on Facebook live so make sure you follow us:   https://www.facebook.com/deadairandbryanhimes/
Meanwhile, let's all take care of each other.  Lots of folks take a real, honest to God hit during these shutdowns.  Which makes it a great time to get a little silly, so Max Corona and I took to Triangle Park for some ballin' out with the Lexington Christmas Tree.
Happy Holidays from Santa's Jolliest Elf…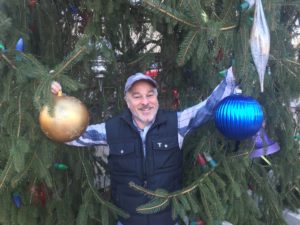 ---
Tuesday, November 17
Feverish Work continues on our 'Classic Rock A to Z'!  It's been a long, long time since I've done one of these and it's always a fun challenge… to get as many songs as you can… to get them in alphabetical order… and then make sure you don't screw it up while you're playing them back on the air.  Early on, I've already discovered we don't have a proper version of 'Abacab' by Genesis.  Max Corona confessed that when 92.1 did 'A to Z' two years ago, they forgot 'Don't Stop Believing' by Journey!!!  So you guys gotta pay attention too, see if you can catch us in a big screw up.
In other 'Downtown Work' news, I noticed the city workers putting up the Lexington City Christmas Tree, so I looped back around Rupp and Triangle Park and snapped this pic!
Here Come the Holidays!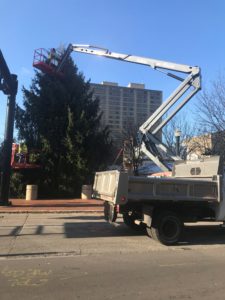 —————————————————————————————
Friday the 13th! 
As Freaky as 2020 has been, Friday the 13th will probably be the most normal day of this year.  Of course, explaining 'Normal' these days is probably the most abnormal thing someone could attempt.
All week long we've been saluting Veterans on the Air, and on our Facebook page so I thought I'd share mine.  Joe Louis Dillon 1935-2016.  My dad only served a few years in the mid 50's, and never saw any action but he always had a tremendous reverence for his brothers-in-arms.  He was a novice historian on the Wars and clashes of the 20th century and he forged many friendships that lasted a lifetime.  I'd like to extend a humble salute to my Dad's service, and to those who served, and continue to serve and protect our great Nation.  God Bless America. 
Thank you Dad!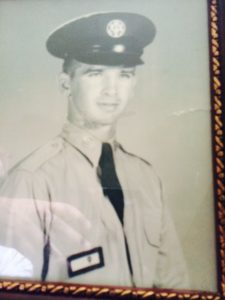 ---
Tuesday, November 10 2020
It's Fall Y'all.
Beautiful Weather… I mean, stunning really.  Record Temperatures every day. 
I'm sure I could depress everyone with more Covid talk, but I'll let the Governor do that.  I'd rather focus on the here and now, and what are we going to do with all of these amazing fall days?  I packed up Momma Toots and her wheelchair and we headed up to Kirklevington Park for an afternoon.  I told her she could brag to her friends about how she got in a mile on the track.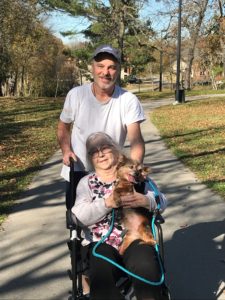 Raisin enjoyed the ride as well.
---
Monday, November 9, 2020
18 Days 'til Stuffin' Time! 
Everybody doing okay?  Last Week was a little crazy for everyone and sometimes I feel the need to ask if you're doing okay.  It was nice to get out and play some music gigs at new places.  Bryan and I started Friday at Cocktails Hamburg.  We had an afternoon gig at the beautiful Bluegrass Barrel House in Richmond.  Then as luck would have it, Silas called us from The Paddy Wagon (four blocks away) and said his band cancelled so we drove the quarter mile, unpacked and rocked again.  That was about 10 hours of music in the last 25 hours or so… Crazy?  Yes.  Fun?  Absolutely.  Anyway, here's a couple shots from the Bluegrass Barrel House, including Bryan (who just so happened to wear the appropriate shirt) at the Iron Maiden Pinball Machine.  (How's that for a 'twist'?)
It's Monday, and requests are always a little light.  So prove to me you saw this post today and email me a request.  DO IT!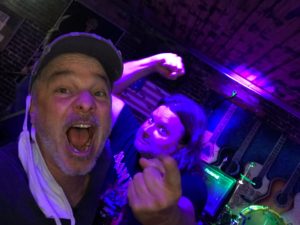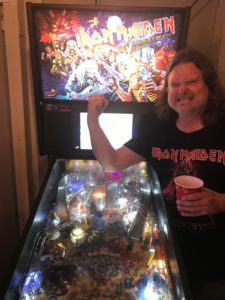 ---
Thursday, November 5, 2020
Today was different.  We rode up to the 31st floor of The Big Blue Building and did some 'house-cleaning'.  Who needs an outdoor table?  Seriously, we wheeled this ball of cheese out of the Big Blue pinnacle, down about 3 flights of stairs to the elevator and THEN down 31 floors!  Radio is Fun!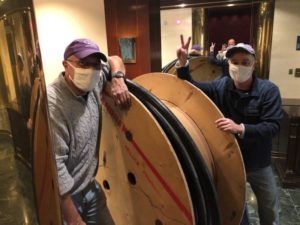 ---
Tuesday, November 3, 2020
Gave you my rowdy Halloween Picture yesterday.  Today you get the other side of the coin.  You guys may have heard me talk about our former foster kids Noah, Elijah & Grace, well here's little Grace all dressed up for Trick or Treating!  Their parents were kind enough to let us have some Halloween fun with them this weekend and they were the most precious of all little monsters!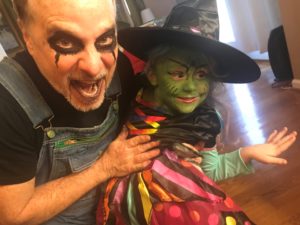 Monday, November 2, 2020
Anybody else get out and get a little crazy on Halloween Night?  That's me & Bryan Himes at an After-ChevyChaseInn-Party!  They were calling me 'Alice Chicken Cooper'!  And yes, I'm rockin' a 'Country Boy Beer original hat!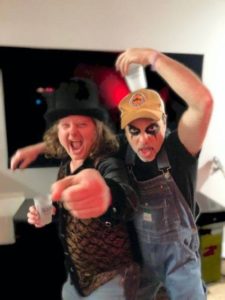 Friday, Roctober 30, 2020
Goodbye October!  Hard to believe how close 2021 is, and I know we're all hoping for better days ahead.  Hopefully we can all find some positive takeaways from this otherwise crazy year. 
Don't forget the 'Time Change' this Saturday Night/Sunday Morning and enjoy that extra hour of sleep!  Halloween should be fun too, let's all look out for the little monsters when we're out driving.  Here's to a safe and 'happy' Halloween for all of God's creatures!   I'll close with a few pics of last night's gig at The Twisted Cork, with a shoutout to the 'Happy Ol' Hookers' Kickball team who came out to rock with us!   Thanks Patrick, Lizard, Billy, Billy, Drew, Miah and… well, I'm sure I've left someone out!  You Guys Rock!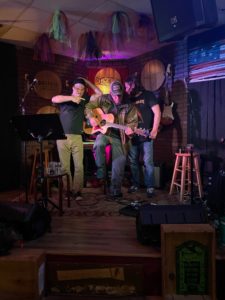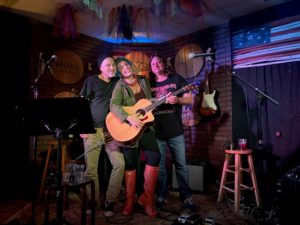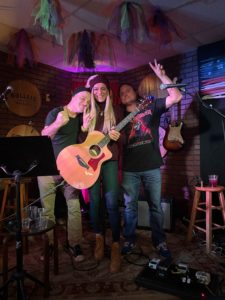 ---
Wednesday, ROCKTOBER 28, 2020
About ten years ago I went to my first KFC Yum Center Concert with my buddy Gustavo.  We were sorta-kinda promised a chance to say 'hi' to Neil & Geddy but of course arrived late and realized that ship had probably sailed… or had it?  With not a moment to spare we were rushed to the inner sanctum of the fledgling arena only to see the last of the others who had gathered to meet the Canadian trio.  We laughed about how we timed our drive from Lexington perfectly, just so we didn't have to wait in a fan line, because just as we walked into the room, Geddy & Neil stood emptily staring at us.  Great gentlemen and a true joy to see them on their 'Time Machine' tour, replete with an amazing animated cartoon and big screen graphics, and chicken roasters and washing machines onstage.  Always one of my favorite bands, it was a trip to meet them (literally), and give them a fleeting 'hello'.  RUSH are our 'Rocktober Artist of the Day', so I hope you enjoy hearing some of their tunes on the air today, as much as I'll enjoy playing them. 
Time Stand Still. 
DeadAir Dennis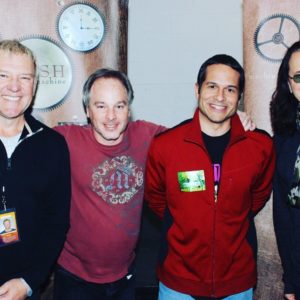 ---
ROCKTOBER 26, 2020
Monday, Monday…
Well here we go, Final Week of October.  Time Change Weekend, Trick or Treat, Halloween and the final days of Rocktober.  I've been putting together a list of Classic Rock Halloween Songs to play for you guys Saturday Night, and I will be out at Christ the King Octoberfest doing some Stage Announcements this Friday Night, so if you see me say 'Hey'!
Here's the funniest picture from my weekend.  'Clowns to the Left of Me, Jokers to the Right'.  We were having a pretty good time at The Twisted Cork, where Bryan Himes and I will be playing music again this coming Thursday 10/29.  
Hope y'all have a great final week of Rocktober!
Dennis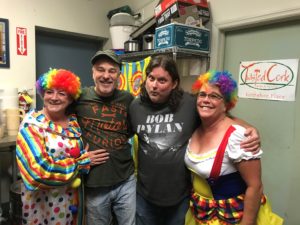 ---
ROCKTOBER 23, 2020
What's Up!?
One more week left in October, Halloween & the 'Time Change' NEXT weekend and our month full of Monster Rock Stars is about over.  It's been so much fun digging a little deeper, finding some live versions of songs, having some video fun.  Honestly it's been one of the best October's I've had in awhile.
I'll occasionally mention that me and my buddy Bryan Himes are out around town playing music.  We've had a lifetime of fun packed into Friday and Saturday nights, and this weekend will be no different.  We return to the Twisted Cork tonight where we get to play for Mama Sue & Prentiss and Saturday night we'll be back at the Chevy Chase Inn.  Y'all are welcome anytime and if you like Tom Petty, the Stones, Dylan, Zeppelin and the Beatles, and Skynyrd, and ZZ Top… I think you'll have a good time!
Everyone have a safe Weekend!
-Dennis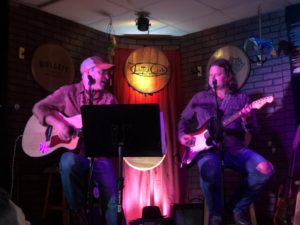 ---
ROCKTOBER 16, 2020
AC/DC's Brian Johnson did a Hoover Vacuum Commercial?!  Yep, 1980 right after the release of his first album with the band.  Do you think he was just making sure he had a 'Plan B'?  Here it 'tis: 
Epic.
So, another night of Kickball at Woodland Park, resulted in another night of 'Ole Hookers'.  Clearly fits within my scope of great dive bars here in Lexington.  I even ran into an old bandmate Duane Lundy who used to run 'Shangri-La Studios', which has now become the Lexington Recording Company.  (Here's his Facebook page:
And, here's a mug of us both, 'hookin' on the street corner.  Ol' Hookers, indeed.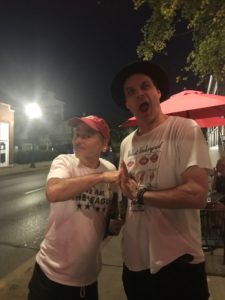 ---
ROCKTOBER 14, 2020
NEGATIVE!  A chorus of halelujiahs!  I feel like I did when I graduated college, or that time when I thought for sure I had an STD (kidding.  kinda.)  NO COVID-19!  You guys saw our video getting swabbed, and I got the news late last night.  Honestly, as much as I'm out and 'trying' to be safe I was OUT… IN PUBLIC… A LOT.  So, color me pleased.  
Even when I'm not out, I'm carousing with 92.1 WINNERS like Jimmy Stevens (pictured below), that's right I invited him into the studio for a pic… I'm Fearless, and maybe a little fruity.  
Cheers Guys, thanks for all the great comments lately… We're having a blast here behind the scenes kicking Classic Rock Ass!  Keep tuned in for another FACEBOOK LIVE Soon!
-Dennis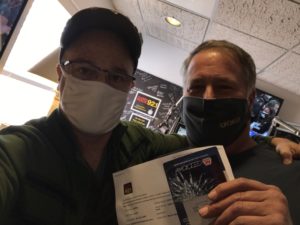 —————————————————————————————————————
ROCKTOBER 12, 2020
So we picked up our former Foster Kiddos & Took 'em to see Momma Toots in Ohio!  We were in Ironton, Ohio for a little Fall Festival Fun.  Back into Lexington just in time to join the Open Mic night at the Twisted Cork.  Thanks Prentiss, Mama Sue & Whitney!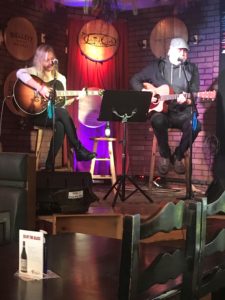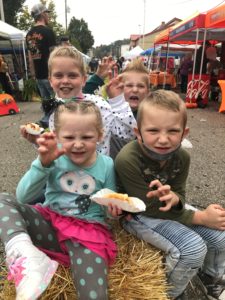 ---
ROCTOBER 6, 2020
Colonoscopy Complete! 
For the record, here's what a guy looks like after a Colonoscopy.  Clearly, it was pretty tough on Raisin too.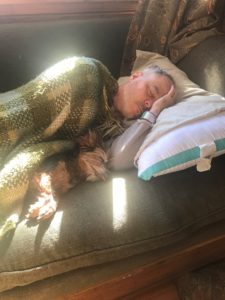 Thanks to Tammy at KyCancerLink.org for the tremendous help, and the doctors and assistants at CSGA!
---
Rocktober Rocks!  Def Leppard is our artist of the Day Today, stay tuned for a couple of Birthday Rockers next week! 
I mentioned that I went to Paul Lawrence Dunbar High School for our nephew's little league football game between Southern Middle and Beaumont and that Coach Stoops was present in the stands.  I'm not brave (or intrusive) enough to ask the Coach for a pic, but I snapped one of the game in progress.  Congrats Beaumont on the 24-0 win.  Little League & High School Football Rocks! 
Don't forget we'll have the Bengals on Sunday at 11:30 with PreGame coverage.  Maybe Joe Burrow gets his first win?!
It's Fall, Y'all.   Hope everyone has a great weekend!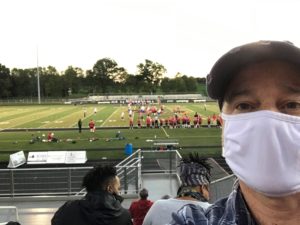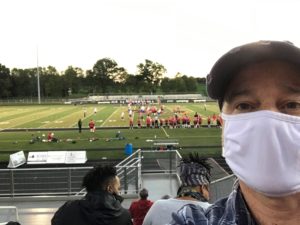 ---
Welcome to 'ROCKTOBER'!
Lots of music interaction for you guys on our website.  Make sure you help us 'Rocktober The Vote' at ClassicRock921fm.com by voting for your favorite songs from the biggest bands in Rock.  We always get excited to see the results of what you guys give us, and it helps us decide what songs to play too.  We'll be focusing on a different artist everyday, and capping off the day with a live mini-concert from that band at 11pm. 
My thanks to Tammy from KyCancerLink.org for coming by to talk about the need for more Kentuckians getting cancer screenings.  October is Cancer Awareness month, and I'm taking off most of Monday for a colonoscopy.  There really isn't much to it, and Tammy made it easy by bringing a basket of colonoscopy butt stuff including HoneyBuns!  For a Free 'Fit Kit' from KyCancerLink.org call Tammy at (859) 309-1700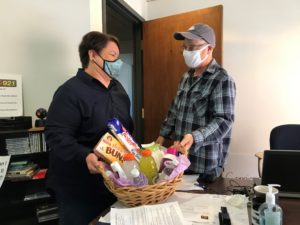 ---
Monday, Zeptember 28, 2020
I met so many cool people out playing music this weekend.  Friday at The Twisted Cork and Saturday at Chevy Chase Inn.  Prentiss and Mama Sue, Tigger and Whitney, Vince and John just to name a few.  Oh, and there was Jeff behind the bar (Just kidding Greg!)  Here's a pic of me and my gal pal Lyssa Halley onstage at the Twisted Cork.  Lyssa and I used to play music with Dwayne Lundy back in the early 2000's.  She joined us for an amazing version of John Prine's 'Angel from Montgomery' that I promise we'll do again.  Maybe even toss in an 'In Spite of Ourselves', think about that one Lyssa!  Thank You, Twisted Cork… What a tremendous place to play local music!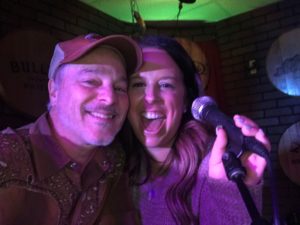 ---
Friday, Zeptember 25, 2020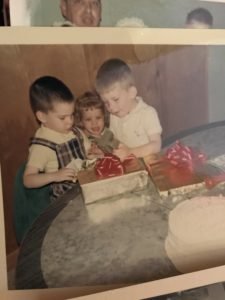 So today my big brother turns 60 years old. 
OH, it's gonna get personal today!
Time.  It's a kick, isn't it?  Talk about a 'throwback' pic!  That's our little sister Tara as well, Colin has the blonder hair.  The Good, The Bad & The Ugly?  The Good is easy, He was always the big brother who took up for me and paved the way for me growing up.  The Bad?  Well, when I was brought home from the hospital, he looked at me and remarked 'I don't like that boy'.  Still funny.  There is no 'Ugly'.  Truthfully, we were blessed with the most remarkable loving parents who surrounded us with love, patience and the ocassional discipline! 
Happy Birthday to my big brother, Colin!  I wish I could be there to celebrate with you today.
---
Thursday, Zeptember 24, 2020
Looking ahead.  This final weekend of Zeptember tells you that surely something fun is coming for October.  The answer is, 'YES' but we're too busy down in the Classic Rock Library Lab to divulge right now, but I promise we'll keep you posted with an update next week.
I'm posting the flyer for the 2020 Lexi-Fest, which happens virtually this Sunday starting at 2p.  Great performers, great sponsors (including US!) and a cool way to learn a bit more about some of the great 'Kentucky Proud' musicians that continue to blossom locally.
It's Fall, Y'all!  Be safe, and Go Cats!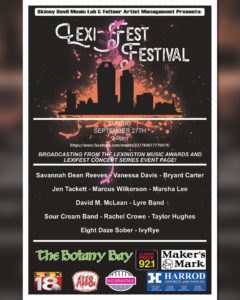 ---
Tuesday, Zeptember 22, 2020
Here's a leftover from a crazy Weekend!  After throwing an absolute Party on the Chevy Chase Inn Patio Saturday Night, we took our 'guest of honor' Vince Carlucci back to his house where we took the guitars off the wall, and rocked out some Blues and Rolling Stones until the wee hours!  Happy Birthday Vince, you are truly loved by so many!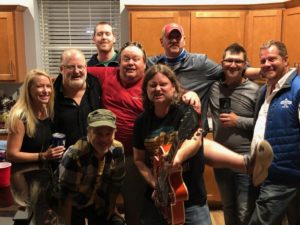 ---
Friday, Zeptember 18, 2020
Cheers!  It's the Weekend!
I overheard the ladies in the lady talking about champagne this morning and it reminded me of 'The Champagne of Beers'!  Here's to you Mr. Honey-Do list guy of the weekend, trying to get it all done so you can at least watch ONE game before Monday starts breathing down your neck again!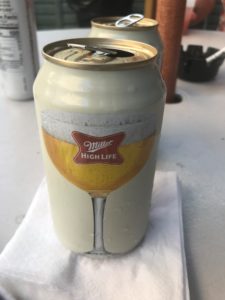 My buddy Bryan Himes and I will be out playing music and hopefully making people laugh and sing.  See us at Cocktails Too! on Friday Night, and then we'll play out on the patio at The Chevy Chase Inn on Saturday Night.  Come have a beer, or… champagne!
---
Thursday, Zeptember 17, 2020
Happy 50th Birthday George Gatewood!  Everyone knows George it seems.  He's the man behind Longwood Antique Woods on Delaware Street, our beloved softball 3rd baseman for decades and the guy that introduced me to Tyler Childers in 2012.  Last night it was a scene on the back patio at Lexington's oldest pub The Chevy Chase Inn… Sadly, most of the pictures taken were not for prime time!  Cheers George!  #Skynyrd #Beyomp #Huckleberry #America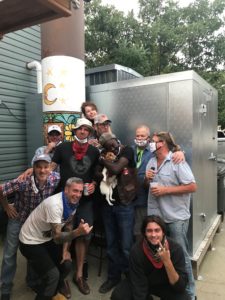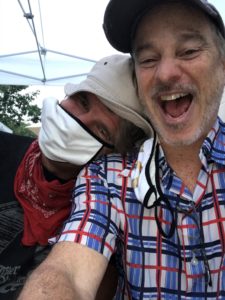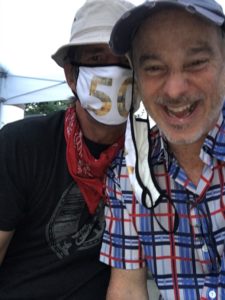 ---
Wednesday, Zeptember 16, 2020
So I went to the Sedona Taphouse at the Palomar Center to have a delicious meal and listen to Ben Lacy play guitar, and was so happy to see our American Flag at the entrance.  (Notice how I'm standing, and not kneeling.)  I'm one of those guys that tears up a little bit when I hear someone singing the National Anthem, and I always appreciate seeing it's glorious colors fly wherever I go.  Well done, Sedona Taphouse!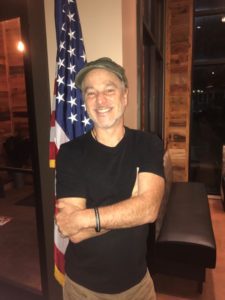 Friday Zeptember 11, 2020
Rupp Arena Reconstruction Update:  Last week I told you guys how I can see the razing of Rupp Arena from our office window.  They've even removed the aerial Pedway crossing over Main Street from our building to Rupp and I took 'before and after' photos.  (see below) 
BTW, Thanks to everyone for calling in with your 9/11 memories this morning.  Some of the phone calls gave me chills as I listened to Max Corona putting listeners on the air.  It's a day we'll never forget, nor should we.  It's also the last time I remember a wholly unified truly UNITED STATES of AMERICA.  9/11 #NeverForget

Have a great weekend, y'all!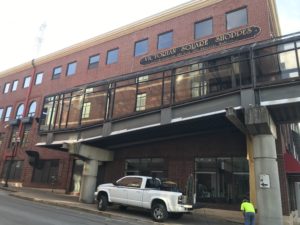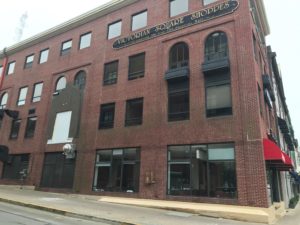 BEFORE PEDWAY REMOVAL       AFTER PEDWAY REMOVAL
---
Zeptember 10, 2020
"Oh, I'm sorry.  Did I break your concentration?"
"Say 'what' again. Say 'what' again, I dare you, I double dare you"
Just discovered The Burl is doing Thursday Night Movies.  In the parking lot.  Free.  Food & Drink available at The Arcade next door.  Social Distancing & Masks required.  
So, bring out the gimp, let's go to the movies!
-Dennis
——————————————————————————————–
Zeptember 9, 2020
LOOK AT ME!  I've hit the big time!  I'm in 'Tops In Lex' Magazine!!! 
I feel like Godzilla in this picture, like maybe I should be breathing fire and destroying a city or two.  I've never liked photos of myself, so I just tend to laugh at them and then quickly look away. 

The font looks a little like 'Raiders of the Lost Ark' or 'Back to the Future', so I can't complain too much.  Thanks Tops in Lex!   Now… everyone, 'Look Away'!!!
—————————————————————————————————————
The EMAIL button works!  Thanks Kathy Livingood for being the first listener to try it out.
FRIDAY SEPTEMBER 4, 2020
Speaking of our Lady Rockers, Here's Laura McHugh, the LOCAL voice you'll hear announcing the 'numbers' during our Labor Day 92 Countdown.  So, she'll basically be introducing the #1 Song!  Thanks Laura! 
Everyone have a fun, blessed Derby & Labor Day Weekend!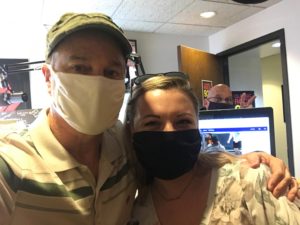 ---
Thursday September 3, 2020
'Moving to the Country, gonna eat me a lot of peaches…'  -Presidents of the United States. (that was the band's name.)
YES, The wife has a serious peaches problem.  However, this particular photo was not 'her' work.  She placed a dozen or so on the hot tub cover overnight so they'd ripen quicker and guess who found them.  We initially blamed the squirrels, but then saw raccoon pawprints in the mashed remains.  Hungry little suckers aren't they?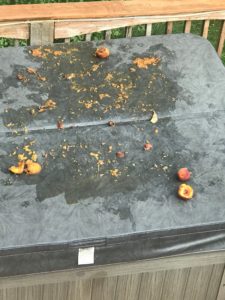 Wednesday September 2, 2020
No Softball, No Problem.  No Parks & Recreation league didn't stop Larry Hall (Hall Media Inc.) and BeerMan from meeting me at Kirklevington Park to toss some softball.  Take special note of BeerMan's ManBoobs.  Oh, and that's Mrs. DeadAir trying to sneak into the pic.


———————————————————————————————————-
Friday August 28, 2020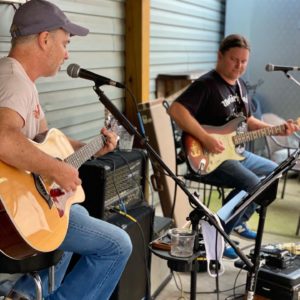 Sometimes I'll mention that local musician Bryan Himes and I play around time. Here's a shot from last weekend out on the patio at Chevy Chase Inn. We'll be back there Saturday, and then Sunday evening we'll be playing at Cocktails Too on Tiverton Drive, so come out and join us for a few songs!
EMAIL Dennis… Here! Monday, November 23 Here We Go!   Classic Rock "A to Z"! Hearing some really great classics like 'Abacab', 'Blue Morning Blue Day' and 'Boom Boom, Out Go the Lights' really got me anxious about