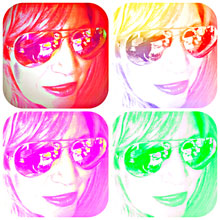 Classic Rock Mornings With Kelli Gates
HOMETOWN: Dearborn, Michigan
HOBBIES/SPORTS: POKER! POKER! POKER! Vintage Collectible shopping from the 60's. Going to concerts.
FAVORITE BANDS: Cheap Trick, Rolling Stones (I have a tattoo of them!) and The Pixies.
BANDS/ARTISTS I'VE MET: Living in LA, I was lucky to meet everybody – except the elusive Robert Plant.
FAVORITE FOODS: Beer Cheese!!!!!
COCKTAIL: Vodka Martini with NO OLIVES OR VERMOUTH!
VACATION SPOT: Las Vegas!
BOOKS: Biographies about just about anybody!
MOVIES: Stupid smart movies like Dewey Cox Walk Hard, Dodgeball, Hot Rod, Spinal Tap
TV: Family Guy, Documentaries about just about anything!
FAMILY: Single, no children (how sad-LOL! ).  LOTS! Totally enamored with my great niece and nephew.
BRUSH WITH GREATNESS THAT DIDN'T GO WELL: Debbie Harry from Blondie. You know the term "say it don't Spray it"? Well, I sprayed it.
Kelli's "But Wait…There's More!" for Tuesday, April 28, 2020 Yet another magical moment involving Dave Grohl! Check out John's extreme look a like son on the right! "But Wait…There's More!" for Tuesday, April 14, 2020 Talked about