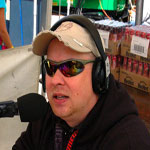 Dave "DD" Doran
                                                                                                                                                                                                                                        Born: and raised in Detroit Rock City, and in rock radio since back in the day…ya know, when we all still had hair?
Things I like: a good beer, a good martini, a good tequila, lobster mac n' cheese, my car (black Camaro) being on the radio and a ton of other things that would make this bio as long as "war and peace."
Bands/artists I've seen/met: too many to list. But I will tell you a few noteworthy icons—Stevie Ray Vaughan, Robert Plant, Ozzy, Rob Halford, Alice Cooper, Ace Frehley & Paul Stanley, Ted Nugent, Tommy Shaw…and many many more.
I love radio! What other job is there that gives you the chance to know the people who make the music you love?
TV: Hannibal, American Horror Story, The Walking Dead, Seth Mcfarland shows, BBT.
Sports: Hockey, Baseball, Football.