E-Mail Max CLICK
HERE!
Friday, ZEPTEMBER 17, 2021–The Kickoff to "FALL FESTIVAL WEEKEND"!!
Virginia from the Capitol City wins a $25 gas card in Game On! Thanks again to CPNS!
GAME ON!
The TV show M*A*S*H debuted on this date in 1972. Who played "Hot Lips" Houlihan?
a) Penny Marshall
>b) Loretta Swit
c) Florence Henderson
CLASSIC ROCK NEWS:
Eric Clapton kicked off an eight-city U.S. tour Monday in Fort Worth, Texas.
He's bolstered his band by taking out a second drummer, with Sonny Emory joining Steve Gadd.
The set list has fluctuated between 14 and 15 songs, with a few audibles. Mixed in among the staples of "Layla," "I Shot the Sheriff," "Wonderful Tonight," "Tears in Heaven" and "Crossroads" are two new songs, "Kerry" and his cover of Fleetwood Mac's "Man of the World." Those are off his forthcoming album, The Lady in the Balcony: Lockdown Sessions, which will be out on November 12th.
Jimmie Vaughan is opening the tour, which is in Houston this Friday night. It runs through September 26th in Hollywood, Florida.
Eric Clapton 2021 set list:
Pretending
Key to the Highway
Hoochie Coochie Man
I Shot the Sheriff
Kerry (acoustic)
Man of the World (acoustic)
Nobody Knows You When You're Down and Out (acoustic)
Tears in Heaven (acoustic)
Laya (acoustic)
Got to Get Better in a Little While
Wonderful Tonight
Little Queen of Spades
Crossroads
High Time We Went (encore) – w/Jimmie Vaughan
Audibles:
Driftin' (acoustic)
Before You Accuse Me
Long Distance Call
BONUS VIDEO: The J. Geils Crowes Band
Peter Wolf of The J. Geils Band joined The Black Crowes on stage Wednesday night in Mansfield, Massachusetts.
Wolf duetted with Chris Robinson on two tracks from the Geils catalog — "Cry One More Time" and "Lookin' for a Love." Watch the full performance on YouTube.
IN OTHER CLASSIC ROCK NEWS:
Nikki Sixx will take part in a virtual signing event for his new book, The First 21: How I Became Nikki Sixx, on October 18th at 7pm ET. It will be hosted by Slipknot and Stone Sour frontman Corey Taylor. Tickets and details at EventBrite.com.
Indianapolis Colts owner and CEO Jim Irsay will display some of the iconic instruments he's bought at auction on September 25th at the Loews Vanderbilt Hotel in Nashville in advance of the Colts' game on the 26th against the Tennessee Titans. The instruments were previously owned and used by Bob Dylan, The Beatles, Prince, Eric Clapton, Elton John, Jerry Garcia and David Gilmour.
After a three-year break, the series of David Bowie chronological Era box sets will resume this fall with Brilliant Adventure (1992–2001).
Bob Dylan has posted on YouTube a video for "Don't Fall Apart on Me Tonight" (Version Two) off his new Bootleg Series collection, Springtime in New York: The Bootleg Series, Vol. 16 (1980-1985), which is out tomorrow (Friday). The video features Mark Knopfler and former Rolling Stones guitarist Mick Taylor, both of whom played on Dylan's Infidels album, which is where the song is from.
CLASSIC CUT OF THE DAY:
Styx: "Renegade"
The Hook: A dark song that might've been a lot darker.
Album: Pieces of Eight
Year: 1978
Writer: Tommy Shaw
Stats: Peaked at number-16 on Billboard's Hot 100.
Background: "Renegade" is a song with dark lyrical subject matter, but it could have sounded a lot darker than it does. The song's writer, guitarist Tommy Shaw, explains
SPORTS REPORT OF SORTS:
Kentucky take on Chattanooga, Saturday, 12 Noon at Kroger Field
EKU take on Indiana State at home, 7pm on Saturday…
Bengals are in Chicago Sunday with coverage at 11:30, on #CR921
Reds' 1-0 win over Bucs.. First pitch at home against the Dodgers @ 7:10 and coverage on ESPN 92.5FM and 1300AM
Washington over The Giants 30-29
…and finally:
Major League Baseball is testing out robot umpires. The Atlantic League of Professional Baseball — which is one of the best minor leagues — has been testing out robot umpire technology at games to call balls and strikes.
ABSURD THING WE HEARD… WEIRD NEWS: Lamb on the Lam
The University of Utah had a little lamb, its fleece was white as snow. It was to be delivered to a research facility to be injected with malaria, but the lamb didn't want to go — and is now on the loose.
University officials say the lamb was one of five brought to the Molecular Biotechnology Building on Monday, but it broke free from its handler and has been on the lam ever since. It's been spotted several times on campus, and some students have tried to wrangle it, but the wily ewe has so far been able to evade capture. Animal control officers believe the escapee is still somewhere near the campus. (Salt Lake Tribune)
Wednesday, ZEPTEMBER 15, 2021 National Double Cheeseburger Day!
Jocelyn wins in "Rock The Jobsite" #CR921RTJS Her team at Bed, Bath & Beyond in Hamburg will get fed lunch, thanks to Clark's Pump N' Shop (Return, Refresh, Refuel!
No winner today!?!?!? $25 gas card in Game On! Thanks again to CPNS!
GAME ON!
On this date in 1988, Mark Knopfler announced that his band had broken up. What group was it?
a) Pink Floyd
b) Steely Dan
>c) Dire Straits
CLASSIC ROCK NEWS:
RECORD STORE DAY BLACK FRIDAY: Releases Announced
The Record Store Day Black Friday slate of releases have been announced. Here are some highlights of the 150 special releases hitting record stores on November 26th. (Check out the whole list at RecordStoreDay.com.)
Aerosmith – 1971: The Road Starts Hear LP and Cassette – This is Aerosmith in their rehearsal room, captured by Joe Perry's tape recorder.
Bee Gees – Three Kisses of Love LP – This features tracks from the start of their career in Australia.
Big Brother & The Holding Company – Combination of the Two: Live at the Monterey International Pop Festival LP – This was a big breakout concert for Janis Joplin.
Billie Eilish – "No Time To Die" 7″ – Her James Bond theme finally gets a physical release.
Blackberry Smoke – STONED LP – This album of Rolling Stones covers was recorded, mixed and mastered live to a vinyl master, in one take.
Carole King – In Concert: Live At The BBC 1971 LP – This previously unreleased concert features a guest appearance by James Taylor.
Chris Isaak – Beyond The Sun LP – This is a tribute to Sun records artists like Elvis Presley, Johnny Cash, Roy Orbison, Carl Perkins and Jerry Lee Lewis.
Daryl Hall & John Oates – Fall In Philadelphia: The Definitive Demos 1968-71 LP – This is a collection of tracks the duo made before signing their record deal.
Dave Davies – Kinked LP – This is a compilation of material The Kinks guitarist recorded in the late '90s and early '00s.
David Crosby & Graham Nash – Wind On the Water LP – The duo's 1975 album gets its first reissue in more than 40 years.
Dire Straits – Encores (Live) LP – The 1993 live collection gets its first appearance on vinyl.
Evanescence – Evanescence LP – The band's 2011 album gets a reissue for its 10th anniversary.
Fleetwood Mac – Alternate Live 2 LP – This features highlights from Fleetwood Mac Live Deluxe Edition.
The Jackson 5 – ABC LP – The group's second album gets its first vinyl reissue.
The Jimi Hendrix Experience – Paris 67 LP – This was recorded for French radio in October 1967.
Judas Priest – Best of Judas Priest 2 LP – This 1978 set gets reissued with a previously unreleased band interview on the 4th side.
Lana Del Rey – Chemtrails Over The Country Club LP – Her album from March finally gets a vinyl release with an alternate cover.
Little Feat – Electrif Lycanthrope: Live at Ultra-Sonic Studios, 1974 CD and 2 LP – This show for a radio broadcast has been widely bootlegged over the years.
Local Natives – Music From The Penn Gala in 1983 Cassette – This features covers of songs by 10cc, Roxy Music and Michael McDonald.
Ozzy Osbourne – No More Tears 12″ Picture Disc – This reissue is for the album's 30th anniversary.
Poison – Flesh & Blood LP – This is an import of French reissue of the 1990 album.
Puscifer – Existential Reckoning: Live at Arcosanti LP – This contains songs from Maynard James Keenan and company's live streaming event from October 2020.
The Stray Cats – Live At Rockpalast 3 LP – This set was recorded in Germany in 1981 and 1983.
Todd Rundgren – Healing LP and 7″ – Rundgren's 1981 album gets reissued with a bonus seven-inch with two non-album tracks.
U2 – Gloria 40th Anniversary 12″ EP – This 40th anniversary limited-edition EP includes the studio version of "Gloria" plus three live versions from three different decades.
The Complete List is Here:
SpecialReleases | RECORD STORE DAY
GREGG ALLMAN: Celebration Tour
The life and music of Gregg Allman is the focus of a new tour this fall.
The Allman Family Revival tour, led by Gregg's son Devon Allman and his Allman Betts Band, gets underway on November 27th in St. Louis and wraps up December 19th in Los Angeles.
Coming along for the celebratory ride are Robert Randolph, Donavon Frankenreiter, Lilly Hiatt, Cody and Luther Dickinson, Eric Gales, Joanne Shaw Taylor, Jimmy Hall, and Lamar Williams Junior, whose late dad, Lamar WiIlliams, was a bassist in the Allman Brothers Band.
Joining them in select cities will be Kenny Wayne Shepherd, G. Love, Samantha Fish, Alex Orbison, and Kenny Aronoff.
The Allman Family Revival began as a celebration of Gregg's 70th birthday in December 2017. Gregg Allman died on May 27th, 2017 from cancer. He was 69.
When discussing the Revival, Devon says, "I like having artists that knew Dad, played with him, maybe were an opening act, or were really influenced and inspired by him. As for a venue, I prefer those turn-of-the-century to mid-20th century, old-school theaters. They are just gorgeous inside, sculpted for sound, and provide the perfect location for these very special shows. I love for this concert to feel like a night at the theater for our audience."
IN OTHER CLASSIC ROCK NEWS:
The Zombies will be joined by Paul Weller, Hayley Williams of Paramore, Joel Madden of Good Charlotte, and HAIM for a Q&A session this Saturday following their performance at London's Abbey Road Studios. The stream gets under way at 3pm ET. Details are at TheZombies.Veeps.com.
Another documentary about Woodstock '99 — this one titled Burn It Down! — will have its premiere at the British Film Institute London Film Festival, which runs October 6th through the 17th in London. The first documentary, Woodstock '99: Peace, Love and Rage, aired on HBO in July.
Peter Frampton, Matt Sorum and many others will take part in a new John Lennon online tribute event, Dear John, on October 9th, which would have been Lennon's 81st birthday. Proceeds will benefit War Child.
Alice Cooper and The Cult will tour the U.K. next May into early June.
Steve Miller has paid tribute to George Wein, the founder of both the Newport Folk Festival and New Orleans Jazz and Heritage Festival, who died Monday at age 96. He says, "It's time to celebrate a great life, a great teacher, a great mentor and a dear friend to all musicians everywhere. There's so much to be thankful for. Rest in Peace George."
THE DOORS: Opening in Theaters
In celebration of the 50th anniversary of L.A. Woman, The Doors' last studio album with Jim Morrison, the concert film The Doors: Live at the Bowl '68 will be screened in theaters worldwide on November 4th.
In addition to viewing the full concert film, which was captured on July 5th, 1968 at the Hollywood Bowl in Los Angeles, you'll see extras filmed exclusively for the big screen including a brand-new musical performance by drummer John Densmore and guitarist Robby Krieger with special guests, plus a conversation with Densmore, Krieger and the band's manager, Jeff Jampol.
The film has been remastered in Dolby ATMOS and 5.1 surround sound by Bruce Botnick, their longtime engineer who recorded the performance at the Hollywood Bowl and co-produced L.A. Woman.
Robby Krieger says, "The magic that has been done to enhance the picture and sound quality of this show will make everyone feel as though they have a front-row seat at the Hollywood Bowl."
Among the songs they did that night were "Hello, I Love You," "The WASP (Texas Radio and the Big Beat)," "Light My Fire" and "The End."
Tickets go on sale September 21st at TheDoorsFilm.com.
The deluxe 50th anniversary edition of L.A. Woman will be released on December 3rd.
CLASSIC CUT OF THE DAY:
Mountain: "Mississippi Queen"
The Hook: It may be under two-and-a-half minutes, but it took a lot of work to shape a disco song from their drummer's old band into a rock classic.
Album: Climbing!
Year: 1970
Writers: Leslie West, Corky Laing, Felix Pappalardi and David Rea
Stats: Peaked at number-21 on the Billboard Hot 100.
Background: Mountain frontman Leslie West says he and his bandmates — drummer Corky Laing and bassist Felix Pappalardi, who was also their producer — really had to work hard to redo an earlier song into the rock classic "Mississippi Queen."
Here's a bonus track from Mountain!!!
SPORTS REPORT OF SORTS:
Kentucky take on Tennessee, Saturday, 12 Noon at Kroger Field
EKU take on Indiana State at home, 7pm on Saturday…
Bengals are in Chicago Sunday with coverage at 11:30, on #CR921
Reds' skid continues with 6-5 loss to Bucs.. First pitch in Pittsburgh @ 6:35 and coverage on ESPN 92.5FM and 1300AM
…and finally:
Today is Roberto Clemente Day in Major League Baseball, which honors the late, great Pittsburgh Pirates outfielder. This year is the 20th anniversary of Roberto Clemente Day — and the league is allowing any and all players to wear his uniform number — 21 — during their games.
Two-Fer Tuesday, ZEPTEMBER 13, 2021
Jocelyn wins in "Rock The Jobsite" #CR921RTJS Her team at Bed, Bath & Beyond in Hamburg will get fed lunch, thanks to Clark's Pump N' Shop (Return, Refresh, Refuel!
Brandon wins a $25 gas card in Game On! Thanks again to CPNS!
GAME ON!
Mork and Mindy debuted on this date in 1978. What college town was it set in?
>a) Boulder, Colorado
b) Ann Arbor, Michigan
c) Morgantown, West Virginia
CLASSIC ROCK NEWS:
DAVID LEE ROTH: Back to Vegas
David Lee Roth is returning to the stage at the end of the year. He broke the news Sunday night while walking the red carpet at the MTV Video Music Awards at the Barclays Center in Brooklyn, New York.
EDDIE MONEY: What a Wonderful Handful
Eddie Money died two years ago — September 13th, 2019 — and his wife Laurie marked the sad anniversary with a very funny letter.
Among the chuckles:
"I miss hearing you tell your same old goofy jokes to everyone you meet over and again."
"I miss cleaning up (and complaining about it!) for hours after you cooked your peanut butter chicken stew."
"I miss your constant texts from across the house, and you getting mad if I didn't respond within seconds."
"I miss picking up Taco Bell for date night at home, with you saying 'I'll turn off Sports Center and let you watch what you want on TV!', etc."
"I miss buying you new stage clothes and having you tell me that I spend way too much money since, as you constantly reminded me, 'I ain't Billy Joel!!'"
"I even miss arguing with you in the car about which freeway I take or where I park or how late we're going to be to the airport. Our life was nothing if not chaotic, but that's how we liked it and that's how we rolled."
"I miss our family movie nights with you talking so loudly with your very recognizable New York voice during the quiet scenes in the theater and asking us why we're all shushing you."
Laurie also writes, "If love could've saved you, you would've lived forever, like you will now thru all of us and thru your music…
"You'd also have been thrilled, yet humbled to see how your music peers have paid homage to you as a person and for your contributions to the music world. I think it spoke volumes about what a nice person you were as well as a talented artist when your passing had such a deep impact among your fellow artists.
"Without our incredible extended family and friends, as well as the E$ fans/ friends, I don't know how I would've made it after losing you. I'm so grateful to all of them.
"Now that you've been gone for two years, I can't say that I miss you any less nor do I love you any less. Like you said so many times to me, 'I've never loved anyone as much as I love you, and I never will,' to that I say 'Ditto.'
"We all miss you so much Eddie. See you on the other side."
Eddie Money was 70 when he passed from the effects of cancer and heart surgery.
<iframe src="https://www.facebook.com/plugins/post.php?href=https%3A%2F%2Fwww.facebook.com%2Feddiemoney%2Fposts%2F404728494350328&show_text=true&width=500″ width="500″ height="726″ style="border:none;overflow:hidden" scrolling="no" frameborder="0″ allowfullscreen="true" allow="autoplay; clipboard-write; encrypted-media; picture-in-picture; web-share"></iframe>
AEROSMITH: And Then There Were Two
Joe Perry is the latest member of Aerosmith to pull up stakes and leave Massachusetts, hanging a For Sale sign outside his home for the last 33 years in the Boston suburb of Duxbury.
Known as Brook Haven Farm, the 14-room house with a rooftop garden sits on seven acres. It has a gym, billiards room, three fireplaces, exposed beams, media room, his basement studio known as The Boneyard, a heated pool in the shape of a Gibson guitar body, and a three-stall barn, a three-room, one-bath detached stone-front carriage house.
Perry and his wife Billie have lived there since 1988, but in recent years have been splitting their time between Los Angeles and Sarasota, Florida. Last year they sold their farm in Vermont.
This move leaves Steven Tyler and Tom Hamilton as the only band members with addresses in Massachusetts.
Tyler splits his time between there and Maui. Hamilton is in Boston and on Cape Cod. Drummer Joey Kramer is in Texas, and guitarist Brad Whitford is in Tennessee.
IN OTHER CLASSIC ROCK NEWS:
Steve Perry is auctioning off his favorite car, a silver 1979 Mercedes 450 SL. A daily driver to and from many Journey writing, recording and rehearsal sessions, he said he wrote many songs behind its wheel. Included with the car is a custom-made red tuxedo tail jacket worn on stage and an autographed copy of his new Christmas album, The Season. The live Internet auction starts September 23rd. Proceeds from the auction go to the Junior Giants program, which provides a free, noncompetitive baseball and softball program for kids between the ages of five and 18.
Guns N' Roses will reportedly release another new song soon. Titled "Hard School," it is a leftover from the sessions for their 2008 album, Chinese Democracy. This follows last month's release of another new song, "Absurd," which dates back to 2001.
Ian Hunter was asked in the Horse's Mouth column on his website if he has any plans to retire. He says, "I really don't know. It's really nice that people don't want me to (including the wife!)… All I'm saying is I'm happy with what's going on in my corner." Hunter is 82 and is working on a new album.
George Wein, the promoter of the Newport Jazz Festival, and founder of the Newport Folk Festival and New Orleans Jazz and Heritage Festival, has died at the age of 95.
Iron Maiden scored the highest-charting album of their career as Senjutsu debuts at number-three on the Billboard 200, which beats the number-four peaks of 2015's The Book of Souls and 2010's The Final Frontier.
Jerry Cantrell says he hopes to tour behind his solo album, Brighten, in the spring and then do some dates with Alice in Chains in the fall of 2022.
Isaac Kearney, a three-year-old with special needs from Liverpool, has become a viral sensation for his love of Phil Collins's 1981 hit "In the Air Tonight." He not only lip-synchs along, but also plays air drums. His mother Melissa says, "Isaac had actually fallen asleep in the car, on the way home from a shopping trip, when 'In the Air Tonight' started playing and he woke up. Straight away his eyes [were] wide open and [he] started singing along, so I got my camera out." Earlier this year, a video of Isaac channeling Whitney Houston also went viral.
CLASSIC CUT OF THE DAY:
The Rolling Stones: "Brown Sugar"
The Hook: Mick Jagger becomes a sugar daddy.
Album: Sticky Fingers
Year: 1971
Writers: Mick Jagger and Keith Richards
Stats: The band's first release on its own Rolling Stone Records topped the U.S. charts for two weeks in mid-1971.
Background: Singer Marsha Hunt was reputedly the inspiration for "Brown Sugar." In between the recording of "Brown Sugar" at Muscle Shoals in Alabama and its release as a single, Hunt gave birth to Mick Jagger's first child, a daughter they named Karis. Keith Richards and Charlie Watts talk about the song.
SPORTS REPORT OF SORTS:
Kentucky take on Tennessee, Saturday, 12 Noon at Kroger Field
EKU now 1-1 and they take on Indiana State at home, 7pm on Saturday…
Bengals are in Chicago Sunday with coverage at 11:30, on #CR921
MNF-Raiders over the Ravens 33-27, Carr capitalizes on Jackson's fumble with game-winning TD pass in OT
Reds play Pittsburgh tonight. First pitch @ 6:35 and coverage on ESPN 92.5FM and 1300AM
The Giants have clinched a wild card slot with a win over the Padres, Monday. The Dodgers and Brewers are expected to clinch next…
…and finally:
Back in February, reigning NFL MVP Aaron Rodgers announced that he's engaged to actress Shailene Woodley. Then, on Sunday, he played one of the worst games of his career. Guess who fans are blaming on this terrible performance? That's right. Shailene Woodley. They're pretty much accusing her of being the Yoko Ono of the NFL. We'll see if Rodgers can turn it around before things get even worse.
ABSURD THING WE HEARD… Ends With Benefits
A man in Austria is in big trouble after investigators discovered that he kept the body of his dead mother in his basement for over a year so that he could continue collecting her pension.
Investigators paid the 66-year-old man a visit after some people began to suspect that his 89-year-old mother may have died in June of 2020. When they arrived at the house, investigators found the woman's body and learned that she had died at home more than a year ago and that her son continued to collect tens of thousands of dollars worth of benefits. A medical examiner performed an autopsy on the woman and found no signs of foul play. (ABC News)
---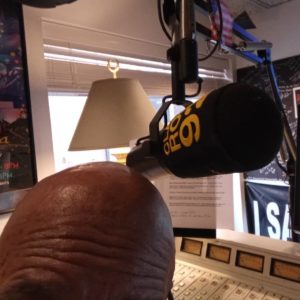 E-Mail Max CLICK HERE! Friday, ZEPTEMBER 17, 2021–The Kickoff to "FALL FESTIVAL WEEKEND"!! Virginia from the Capitol City wins a $25 gas card in Game On! Thanks again to CPNS! GAME ON! The TV show M*A*S*H debuted