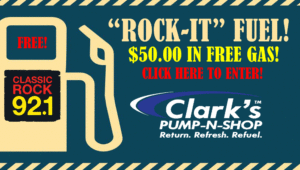 Welcome to "ROCK-IT" Fuel!!
We've got $50.00 in free gas from our friends at Clarks Pump N' Shop.
All you have to do is register by filling out the form below.
Then listen for FreakDaddy to draw the winner at 8:20am Friday mornings! Here's hoping YOU win!
SPECIFIC CONTEST RULES:
1) 18 and older, please
2) Contestants must not have won in the past 45 days.
3) Only one entry, per household, per address. Duplicates and the original entry will be disqualified.
4) Winner is selected at random, your odds of winning are based on the number of entries recieved.
5) Winner is drawn at 9:20am, Friday mornings.
6) Winners MUST pick up their prize within 10 business days or they forefit said prize.
Our General Contest Rules live HERE!
Our Privacy Policy lives HERE!